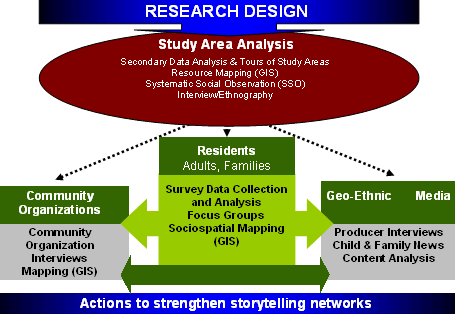 The research design of the Metamorphosis Project entails multiple methods, multiple levels of analysis, and multi-lingual data collection. Our methods are both qualitative and quantitative. Qualitative methods include focus groups, content analysis, case study analysis, systematic field observation and semi-structured interviews. Quantitative methods include telephone surveys and socio-spatial analysis.
The micro level of analysis focuses upon the residents of our diverse communities. The meso level concerns the community organizations and geo-ethnic media components of the neighborhood storytelling network. The macro level of analysis refers to neighborhood characteristics (e.g., features of the communication action context and neighborhood demographics) and the media that are targeted to larger geographic areas than our geo-ethnic communities. We employ multi-lingual data collection in order to include the new immigrant populations that reside in a number of our study areas. To date, we have collected data in Armenian, Cantonese, English, Korean, Mandarin, and Spanish.
- Study Area Analysis
- Community Organization
- Residents (Adults, Families)
- Geo-Ethnic Media
Or, download the entire document: Overview of Main Metamorphosis Project Databases (PDF)
---
Publications
Published Papers
Chen, N. N.-T., Ball-Rokeach, S., Parks, M., & Huang, J. (2011). The Alhambra Project: A theory-based strategy for the construction of a citizen journalism website. In Hutchison, D. & O'Donnell, H. (Eds.). Centres and peripheries: Metropolitan and non-metropolitan journalism in the twenty first century. Pp 255-270. Newcastle Upon Tyne, UK: Cambridge Scholars Publishing. Matei, S., Ball-Rokeach, S.J., Wilson, M., Gibbs, J., & Gutierrez Hoyt, E. (2001). Metamorphosis: A field research methodology for studying communication technology and community.
Electronic Journal of Communication
. 11(2). From
http://www.cios.org/www/ejcrec2.htm
.
Papers Presented at Professional Meetings
Ball-Rokeach, S. J. (May, 2009). Organizer: Participatory Research and Social Change: Case Studies of Partnerships with Community Organizations, A panel presented at the
National Communication Association Conference
, Chicago. Matei, S., Ball-Rokeach, & Qiu, J. (2001).
Mental Maps as Communication Research Tools and their Policy Implications
. The International Communication Association Conference, Washington DC. Villanueva, G., Broad, G. M., (2012). Communication Asset Mapping: An Ecological Application Toward Building Healthy Communities in South Los Angeles. Paper presented at the International Communication Association conference. Phoenix, AZ. Wilkin, H.A., Stringer, K., O'Quin, K., Hunt, K., & Montgomery, S. (2010).
Should We Chase Ambulances? The Challenge of Locating Residents for a 911 (mis)use Intervention Project.
Paper presented at the International Communication Association Conference. Singapore.
Other Presentations
Ball-Rokeach, S. J.., Villanueva, G. & Ognyanova, K. (November, 2010). Metamorphosis: Research in Action. Presentation to The Art Center College of Design, Pasadena, CA.